It's The Water You Don't See in your Home that's Scary
8/22/2016 (Permalink)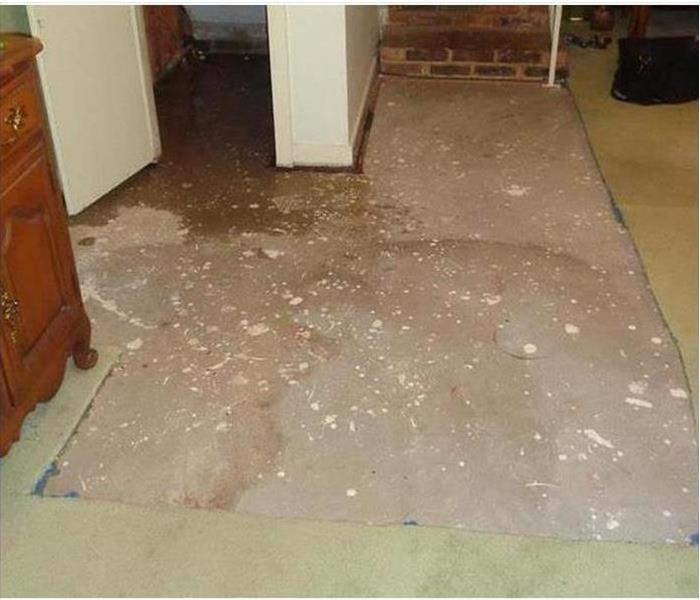 Water damage to your flooring can be a inconvenience but not with the professionals! Call SERVPRO of South Worcester! (508)757-7885.
Even small water damages have the potential to cause serious structural and indoor air quality issues over time.
The key to avoiding costly future restoration is to handle every water problem as a real threat to your property. SERVPRO of South Worcester have the equipment, training and experience to find and dry unseen water before secondary damages occur. The proper equipment makes a measurable difference in reducing the damage expense during a fire or water loss. When time matters, technology and equipment must be counted on to perform. SERVPRO of South Worcester professionals will answer your call with rapid action and a full arsenal of drying equipment. Here are a few of the tools used by your local SERVPRO Franchise Professionals.
Moisture Sensors are used to detect moisture in carpets, baseboards and walls.
Moisture Meters are used to determine the actual moisture content of various materials. The moisture tester provides accurate readings, allowing SERVPRO® Franchise Professionals to monitor the drying process.
Thermohygrometers measure temperature and relative humidity. When armed with this information, SERVPRO® Franchise Professionals can calculate and create an environment most conducive to drying. When facing a contaminated water loss, it is not only important to dry the structure, but the structure must also be disinfected and often deodorized.
Ultra Low-Volume (ULV) Foggers will atomize liquid deodorizing agents, producing a fine mist that can easily penetrate the site where odor-causing residues may accumulate. This device can also be used to inject fungicides and disinfectants into wall cavities and other hard-to-reach areas.
Thermal Foggers dispense solvent-based products by creating a dense fog. The fog consists of tiny particles of deodorant solution that attach to and neutralize odor- causing particles.
The bottom line? Your local SERVPRO of South Worcester has the training and equipment to help make it "Like it never even happened."
Like it never even happened.
Imagine its 8:00 p.m. on a Sunday, and you walk into your home after a relaxing vacation expecting to switch on the lights, put the kids to bed then get some rest yourself.
The only problem? A water pipe burst over the weekend, dumping thousands of gallons of water over your hardwood kitchen floor, your carpeted living room and your cement utility room. You realize this problem is far beyond the reach of your shop vac. What do you do now?
When it is your home or business that is underwater, mitigation cannot wait. You need mitigation to begin immediately. If water damage strikes you or your customers, give SERVPRO of South Worcester a call, any time, any day.
The cost of water damages can increase exponentially with time. Wood floors warp, dry wall soaks in moisture and mold develops in hard-to-reach areas of your home or business. The benefits of rapid mitigation offered by SERVPRO of South Worcester is two-fold: Your costs go down as potential hazards may be avoided, and your peace of mind goes through the roof.
If the unthinkable happens to your home or business, allow SERVPRO of South Worcester to help quickly turn your "before" into a "happily ever after."
Water Damage Clean-up
There's no such thing as a small disaster—especially when a small leak now could blossom into a big claim later. Unseen water can soak through walls, seep through carpet and pool on sub floors, causing major problems over time. You need help—fast. No matter what time of day or night, contact SERVPRO of South Worcester to begin emergency mitigation. Emergency mitigation means that under normal circumstances, SERVPRO of South Worcester can be on-site within four hours to begin drying your building and restoring contents. The faster the water is removed, the less chance of serious damage to your facility. Every SERVPRO Franchise Professional is trained and understands how to manage the drying process. By utilizing state-of-the-art equipment and the latest technology, your structure will be quickly and thoroughly dried, which helps prevent secondary water damages.
SERVPRO of South Worcester professionals will remove moisture and any contaminants by disinfecting and deodorizing to safely clean and dry your building and contents to IICRC Standards. Help ensure the value of your property by calling your local SERVPRO of South Worcester (508)757-8775.